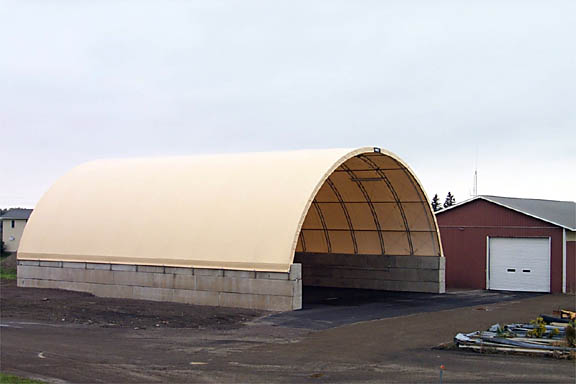 In past years the Township had to store its salt and antiskid materials outside, exposed to the environment. Even though tarps were used to prevent undesirable runoff, this was not an acceptable practice.
This year with the help of a low-interest loan from the Commonwealth's Local Government Capital Project's Loan Program
and additional financing from Community National Bank, the Township erected a 62 ft x 81 ft high-bay, three-sided storage facility.
Now materials will be under cover year around; protected from the environment; and will be free flowing, easy to load and use during winter months.
This building was constructed of large-format concrete blocks, 3 ft x 3 ft x 12 ft. Fifty-nine blocks were required to make the walls three tiers high. Some blocks are shorter to provide for staggering the joints. Each block has a recessed keyway on the bottom and a key on top to lock the blocks together. Franklin Township thanks PennDOT for the use of their forms to make these blocks.
The Township crew poured two blocks a day for six weeks this spring. After pouring, the blocks were stored on site until the crew erected them in August. The successful bidder for the concrete was Concrete Services Corp. of Fairview.
The previous materials storage site was cleared and prepared with a high quality subbase. The first tier of blocks was placed square and plumb and two layers of blocks were stacked on top.
Russell Standard Corporation from Franklin Township was contracted to place an asphalt floor and apron in the building.
Cover-All Corporation through Blair Construction Systems was the successful bidder for the installed tension membrane roof.
The completed value of the building is approximately $150,000.